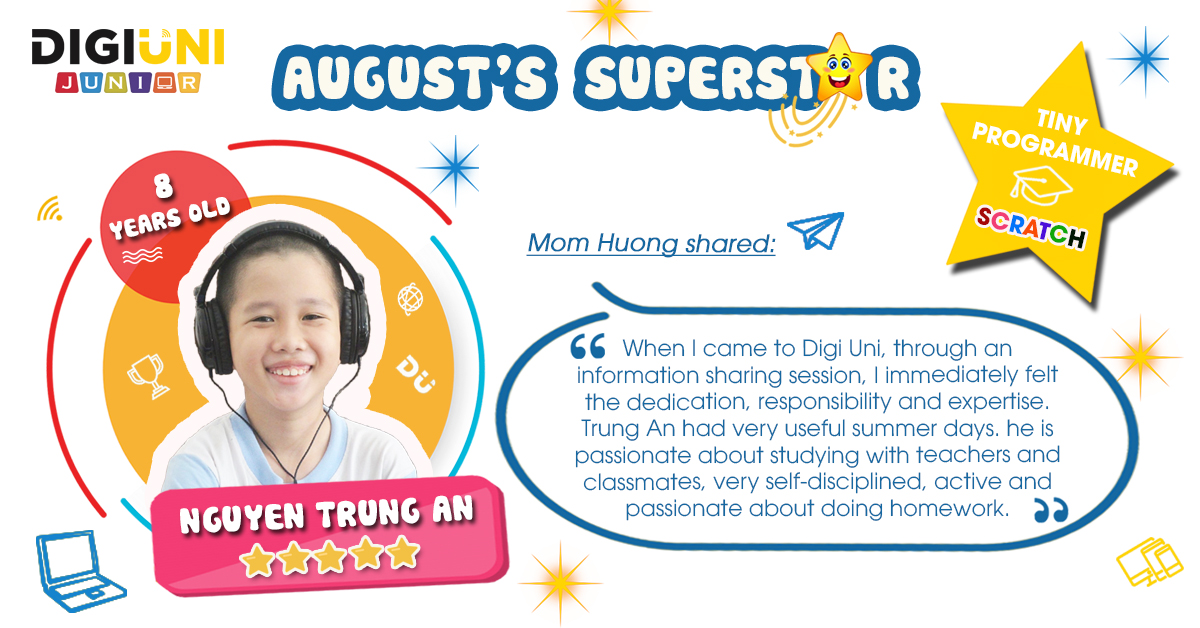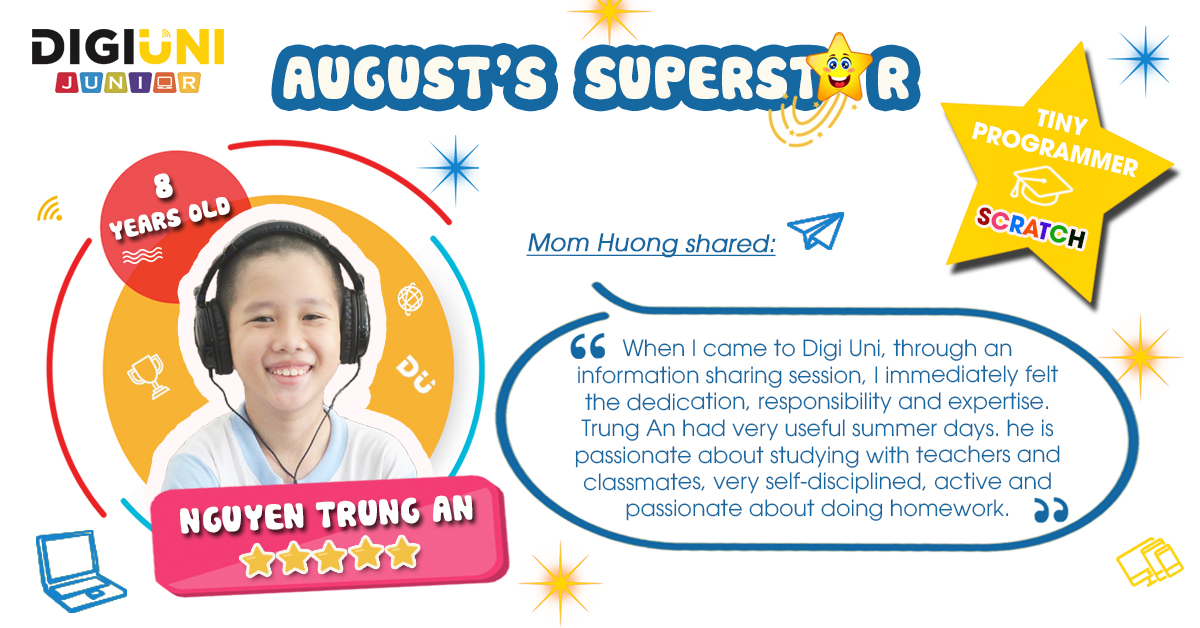 Trung An has started learning programming with Scratch – Tiny Programmer at DigiUni Junior. With a strong passion, Trung An spent twice as much time as his friends up to 4 hours a week to learn programming and do extra exercises, so he has learned very quickly and easily solved difficult problems. right while studying. Mrs. Huong – An's mother – shared with DigiUni with an emotional letter:
Thanks Giving to DigiUni
"Knowing that my son loves Math and is quite good at logical thinking, I let him experience programming lessons at some Technology centers. When coming to DigiUni, after an information sharing session, I immediately felt the dedication, responsibility and professionalism of Ms. Anna – CEO, teachers and staff.
Through the Tiny Programmer programming course, Trung An has very useful summer days. He is passionate about coding and studying with teachers and friends, very self-disciplined, active and happy to do homework. He is not only completed the assigned exercises, but also did some extra lessons to give to me, changing the character or dialogue to my liking.
As a teacher, I know that teaching method and studying environment are important to help my child develop the necessary skills. Programming is very helpful for the development of any child's logical thinking, problem-solving skills and communication skills. Through tasks that are as simple and natural as a game, children can improve their communication and critical skills to express their opinions and point of view. A small programming exercise is the foundation for children to think and work in the right process, to know how to arrange the step-by-step process logically and effectively to create a finished product that meets the set criteria.
The teachers at DigiUni are always happy, understand the children, encourage and guide them enthusiastically to promote their strengths. The staff are very dedicated and do all they can to give each child the most effective learning process, suitable for their development direction.
Sincere thanks to Ms. Anna, teachers and staff. I feel fortunate to be a part of DigiUni's education project, to together realize the dream of training a young generation with enough technological knowledge and skills to serve the common development needs of the society."
DigiUni Junior sincerely thanks Mrs. Huong for motivating us with her love letter. We are very pleased to have parents accompany us on the journey of equipping them with a solid foundation to become a talented young generation, contributing to the development of Vietnam in the future.
HELP YOUR KIDS BECOME FUTURE CODERS WITH CODING CLASSES FOR KIDS 4-18 YEARS OLD AT DIGIUNI JUNIOR!
DigiUni Junior offers fun & exciting coding classes for kids 4-18 year-old with languages like Scratch Jr, Scratch, Python, HTML/CSS and JavaScript. We teaching online during quarantine & continue in our school after. The skills acquired after finishing our extensive program can help your kids get jobs in various types & jobs related to programming, web, app and game development & much more!