Digitize Your Mind
for a Better Future
DigiUni Junior is an international training center for children aged 4-18 in Ho Chi Minh City.
* Offer both online and offline courses
* 1-1 Customized training
* Multiple awards in national and international competitions
* Taught in both English and Vietnamese
* Programming, design, robotics, 3D, and data analysis by professional teachers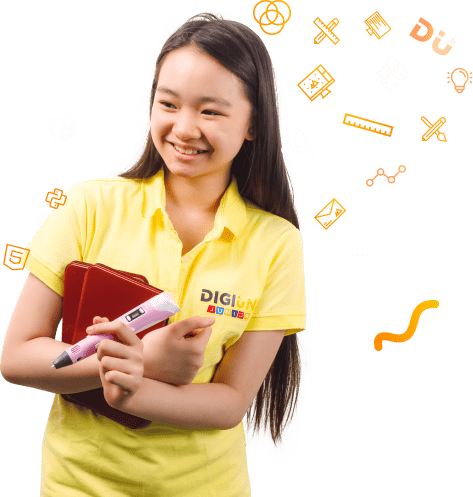 Welcome to


DigiUni Family
Together we shape the all-around development of Vietnam's next generation

Diverse Skill-Focused
Program
Internationally recognized theory
combined with real-life experience
from leading IT professionals

Teachers with real
industry experience
Immediate practical application
through every moment
of the class

Interactive classes
with Effective practice
Online to offline and back – both in
class and with our online
homework system

Modern Facilities &
Student Support Service
Full integration of tablets, laptops,
projectors, robotics & 3D painting paired
with thorough teaching assistance
Introducing

Your Top choice for digital skill learning
center for kids
from 5 to 15 years old!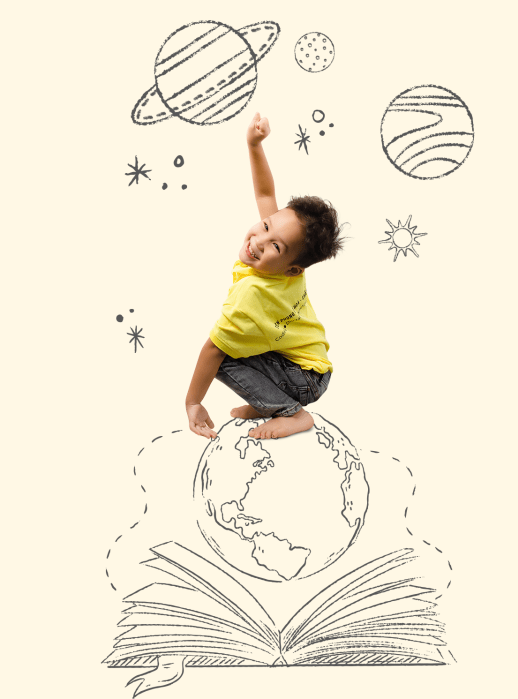 Early integration of computer science skills
Full coverage of key coding languages: from Scratch Junior all the way to Python, HTML & Javascript.

Creativity
Boost
Expanding children's imagination & creativity using analytical games, robotics & 3D drawing within class program.

All-around
development
Each course focuses on English terminology; development of creative, critical & analytical thinking; mathematics & soft skills.

Parents are a part of
learning support program
Applying weekly online homework exercises to experiment & develop your child's own version of practical exercises learned in class through our digital teacher system.

Modern Facilities for
best learning experience
Each classroom is equipped with all needed practical applications of theory and practice: from projectos & tablets, to laptops, robots & 3D pens.

Integration with
relevant
work experience of
leading IT professionals
DigiUni Junior Coding academic team members are current industry practitioners with solid professional track record. From AI machine learning to Web & App development.
Browse through our program for your child's age group
Baby Engineers
Tiny programmers
Zero to hero
Teen Digital Experts
Over 15 years old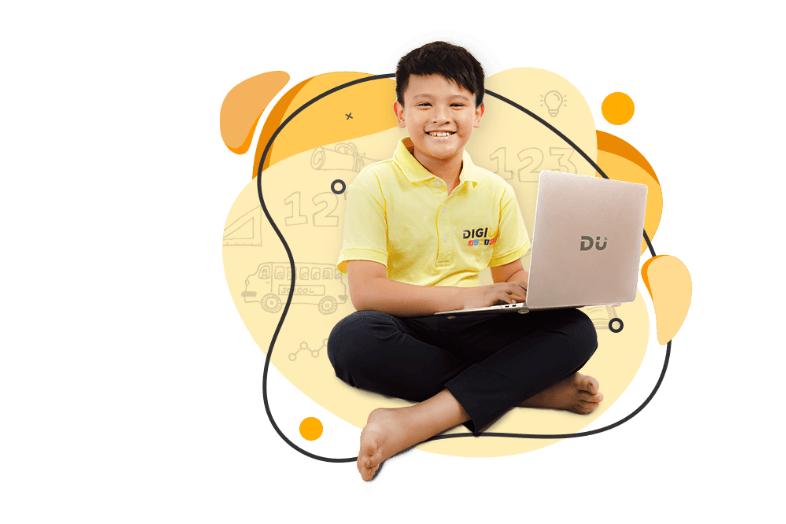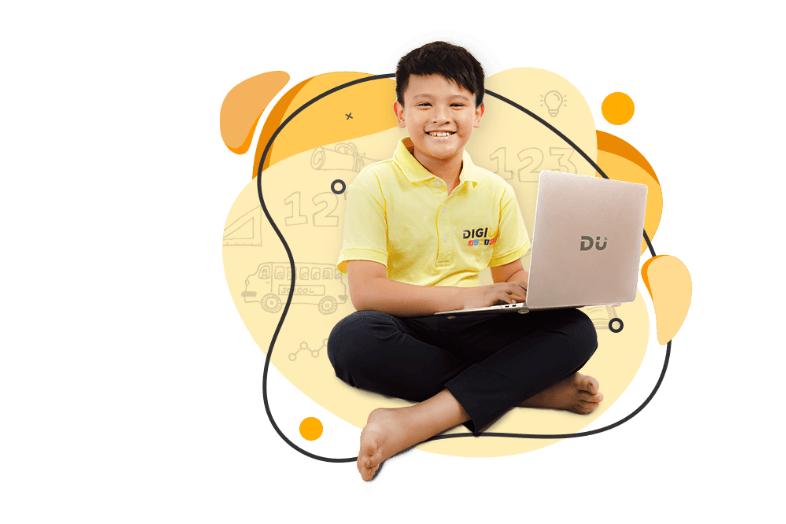 Baby Engineers
Tiny programmers
Zero to hero
Teen Digital Experts
Over 15 years old
Our IT Coaching
Experts
Parents can also join with children to learn new
skills from our teachers
Katrish graduated with a bachelor's degree in biotechnology (accreditation standard AUN – Southeast Asian university network), International University – Vietnam National University Ho Chi Minh City. Katrish also studied for Arena Multimedia's certifications in graphic design and video editing with a passion for art.

---

Although Mr. Chau is young, he has many years of experience in learning and competing in competitions on creativity and programming. Chau's knowledge is not only encapsulated in coming from the school chair, but also from the actual competitions. In addition, with studying and working in a bilingual environment, Mr. Chau can guide DigiUni students in both Vietnamese and English fluently.

---

Truong Ngoc Chau

Scratch & Makers Empire teacher

Quynh Nhu has many years of experience as a programmer in leading companies such as Intel Products Vietnam and GeoComply. With her superior logical thinking and many years of experience, Ms. Quynh Nhu has successfully developed and applied a number of projects. In 2022, Ms. Quynh Nhu participated and published her research paper in the international conference GTSD2022.

---

Nguyen Tran Quynh Nhu

Python, HTML & Javascript teacher

20
Teachers & Staff

45
Courses

5
Fully Equipped Labs

Central
Location
DigiUni's
Family Love
Digi Uni provide a well-rounded full course
into coding with languages like Python, HTML,
Java and others for children and young adults;
graphic design; digital marketing; business
analytics as well as short training
courses in copywriting
Knowing that my son loves Math and is quite good at logical thinking, I let him experience coding lessons at some Technology centers. When coming to DigiUni, through an information sharing session, I immediately felt the dedication, responsibility and professionalism of Ms. Anna – CEO, teachers and staffs. Through the Tiny Programmer course, Trung An had very useful summer days. He is passionate about studying with teachers and friends, very self-disciplined, active and passionate about doing homework. He not only completed the assigned exercises, but also did some extra lessons to give to me, changing the character or dialogue to my liking.

Văn Mỹ Linh Hương
Student Nguyễn Trung Ân
8 years old
DigiUni school takes care of parents very well. The program is very thorough. The number of students per class is like exchanging up to 6 students, a good number for the child and the school to develop together. The teacher is dedicated to guiding the child to complete the lesson. In addition, the information management system creates good communication between parents and the school.

Phan Võ Kiều Ngân
Student Trịnh Minh Nhân,
7 years old
I registered to join in a short-term course on game programming for my child, 5 lessons and school gave extra free 5 lesions, then my child got 10 lessons. Every lesson, he is coding games to create animation animals as themes very interesting, he is passionate about creating animals and games from his creativity, so he loves it very much. One lesson a week, my child looks forward to the end of the week to study with teacher Hoang and his teaching assistant.. During the week, there is an exercise that Mr. Hoang gives him very interested and he is passionate about doing it. There are many difficulties he needs to ask Mr. Hoang to explain. Thank you very much! Mr. Hoang is not afraid to guide him step by step into the field of game coding, teaches him patience and independence while working. Thanks DigiUni Vietnam to raise up his dream to be a game developer coming true!

Phạm Thị Hồng Nhung
Student Lê Toàn Phát
9 years old
Let's start the better
future now – Join our
free trial!
Leave your contact information & our team will
get in touch with you!
Contact Us