Are you looking for information about multimedia graphic design course for your children? Parents must be familiar with social networks such as Facebook, Instagram, Youtube and recently, Tiktok. And every time they need to find information, parents have used Google to search from images, videos …. Those are the popular channels in multimedia communication today. We all touch and use, but we are sure to have such vivid images and videos, it is necessary to have the magic of talented hands named Graphic Designer.
Along with the strong development of multimedia communication from online to traditional and crept into life, spirit and society, jobs related to multimedia graphic designer are being Advertisers, especially business owners, are always looking for. Designer is at the top of the job search. And of course, it can be seen that short-term or intensive graphic design courses are also increasingly popular, chosen by many young people.
The article will focus on learning about the MULTIMEDIA graphic design course for children from 9 -18 years old.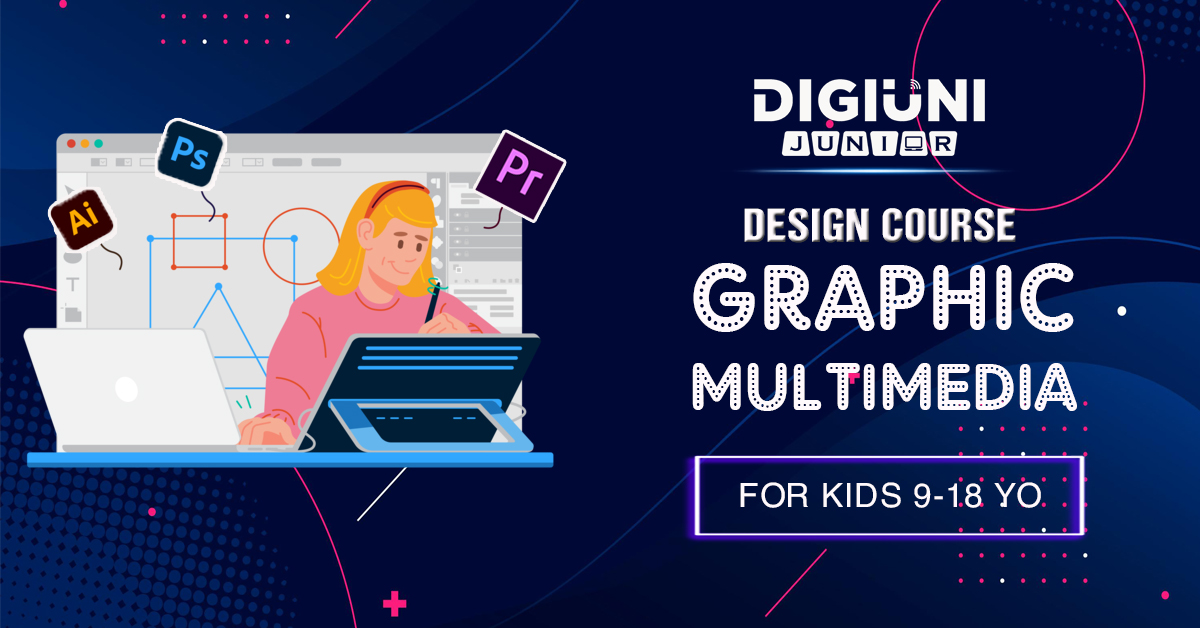 1. KIDS CAN LEARN MULTIMEDIA GRAPHIC DESIGN?
Multimedia Graphic design is a creative process from ideation to the application of design-specific software tools to convey visual or video messages by incorporating artistic elements. Art, aesthetics, creative ideas and design tools effectively target a specific audience.
In fact, there have been many parents who always seem to think that the programs in the graphic design course will be very complicated, using words entirely in technical English, children will not be able to learn, only suitable for adults, college or university students. This is not really true, because in leading countries, the curriculum encourages children from the age of 9 to interact with computers, learn graphic design, and learn to draw art in order to improve their full skills. – design thinking for children.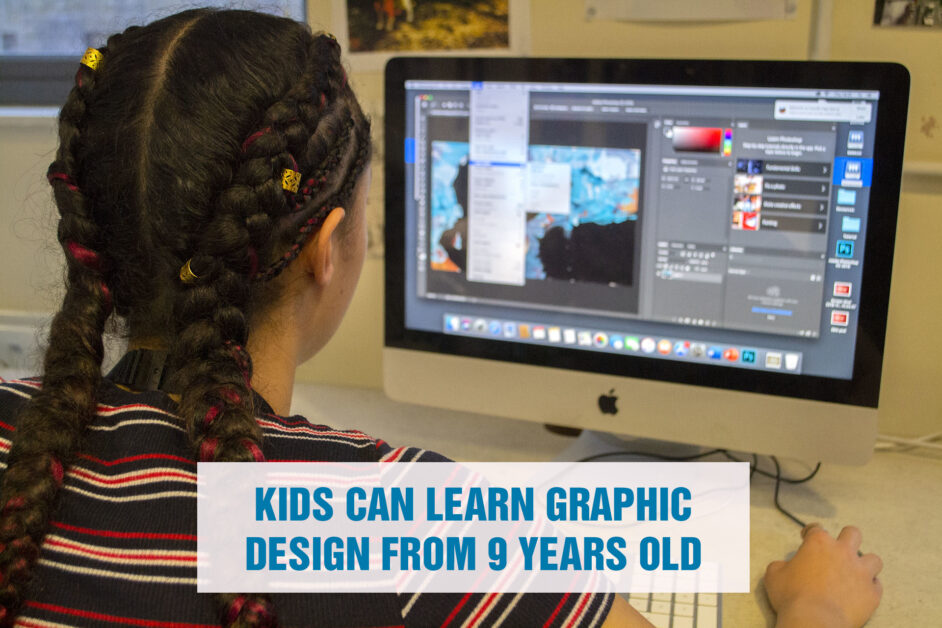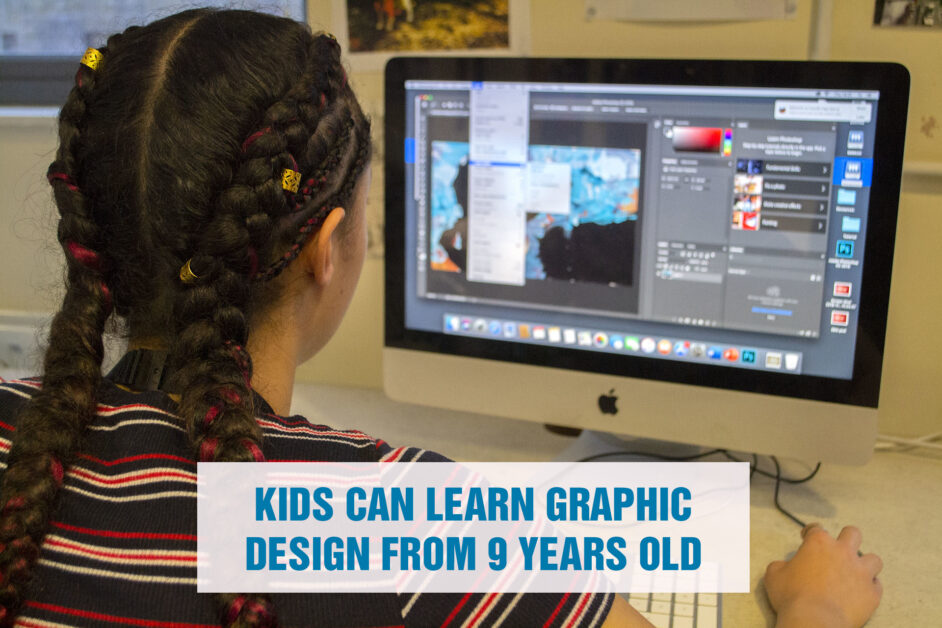 As for design, when children can read and write, from the age of 9, they can fully interact with and familiarize themselves with popular graphic design softwares such as Adobe Photoshop to edit images, crop Create basic cartoon characters right from the first lesson.
According to many studies, children should learn graphic design from a young age for the following main reasons:
– Develop design thinking and boost unlimited creativity.
– Children learn faster than adults, learning early helps them master and progress faster.
– Job opportunities are open, can work in many industries and change jobs easily.
– Improve English vocabulary and communication ability.
– The popular design software, used all over the world, students can work across the country and in an international environment.
– High salary, bonus, can earn extra income early without having to wait after graduating from university / college.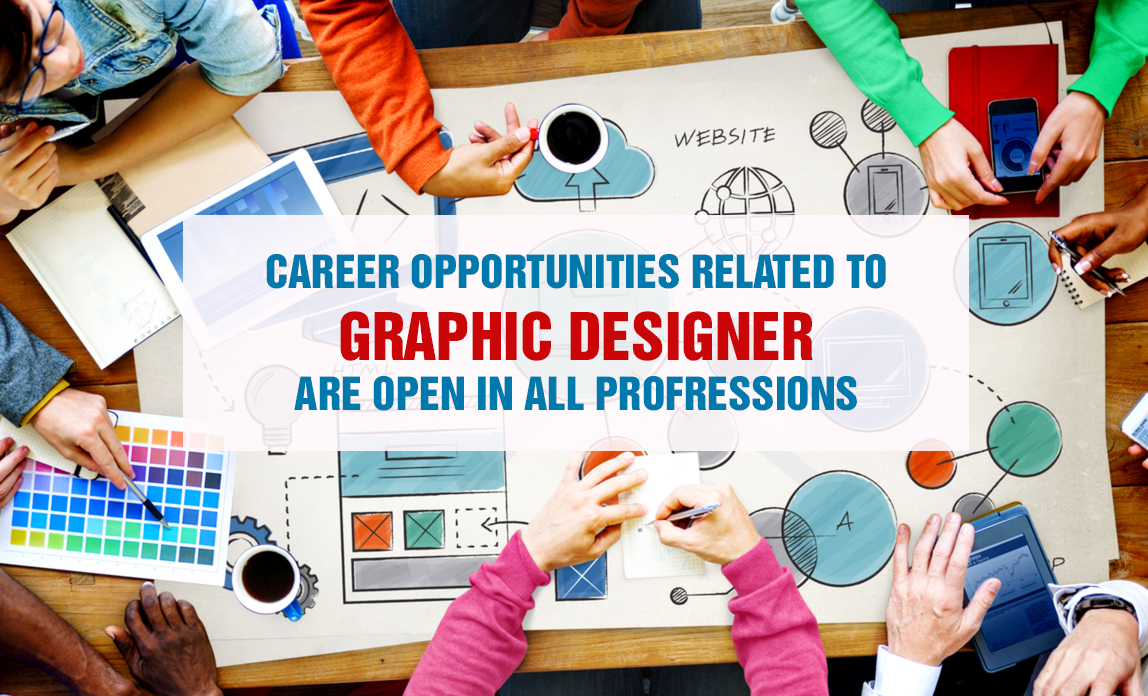 2. HOW IS JOB OPPORTUNITY RELATED TO GRAPHIC DESIGNER?
Every field in society from economy, education, health, … to business activities, production, sales, product/service promotion or branding needs graphic design.
The fields of entertainment, movies, TV shows, art, media, marketing, and information technology are professions that have a close relationship with graphic design – multimedia, Designer is an indispensable character in the process of creating advertising and entertainment products to the public.
We can list the related jobs that students can do after completing the graphic design – multimedia course:
– Website design, website management, facebook…
– User interface design (UI design)
– Design printing, packaging, logo, brand identity.
– Advertising design, product marketing design
– Film and TV show editor
– Film director, director of photography, art director
– Design teachers at schools or centers with design majors.
– freelance desiger – receive projects to do at home.
– Interior design, construction works, events…
In general, multimedia graphic designer is a flexible job, in addition to working at the company, they can receive additional projects to earn extra income. They can work at the company, at home, at a coffee shop or anywhere with just a computer connected to internet, installing all the necessary design softwares.
Salary and bonus for designer are also quite high, averaging 20 million/month in Vietnam, employees having design skills are highly valued, can advance quickly at work because the designer is the one who transmits the image. , message and profit the company. According to the latest survey in 2020, the multimedia graphic design course is among the top majors chosen by students to study more and more.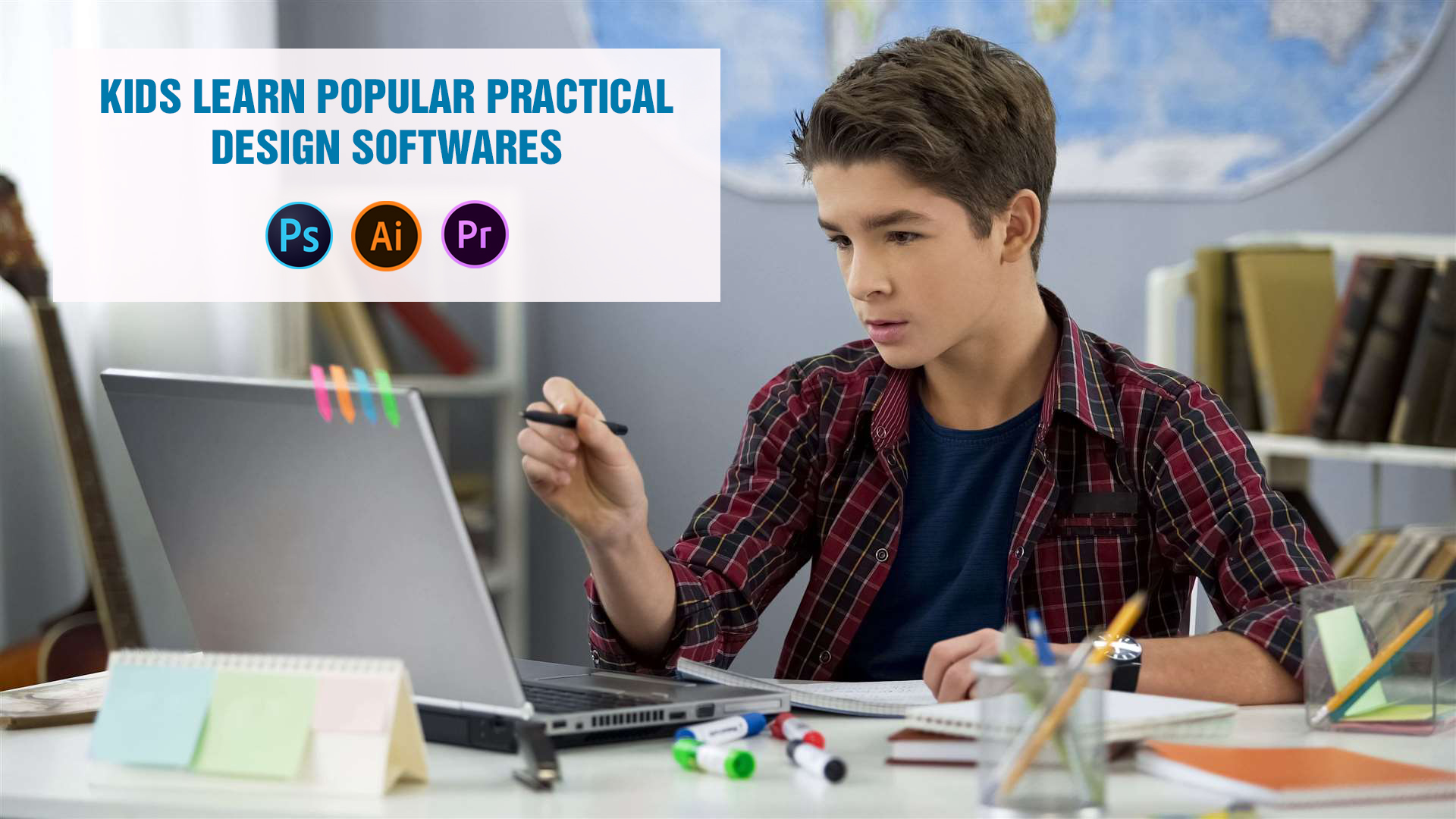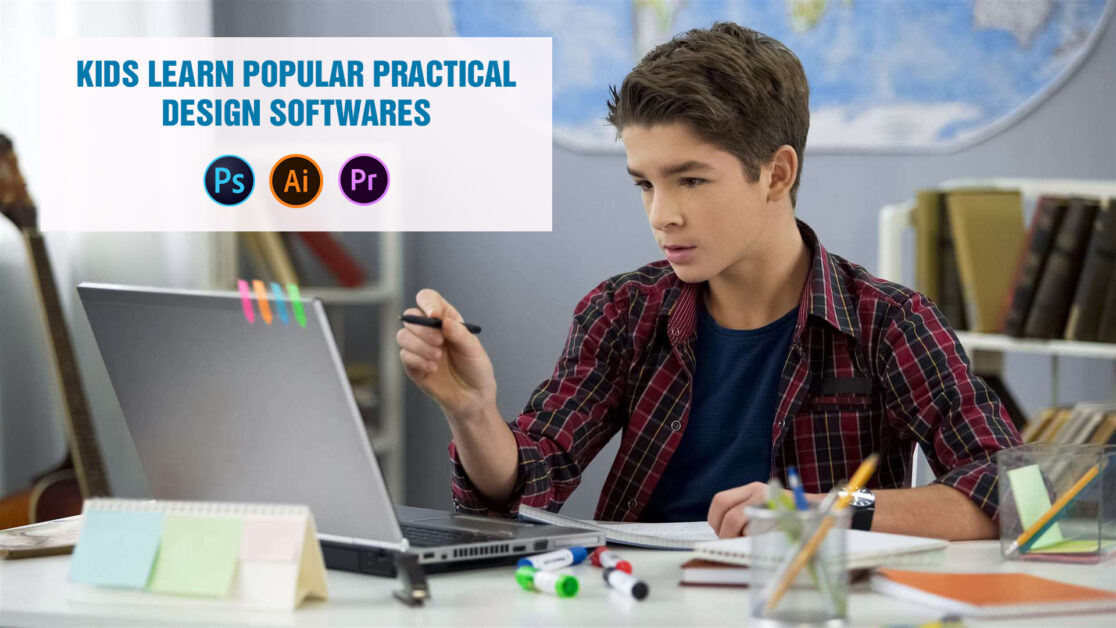 3. WHAT WILL STUDENTS LEARN IN THE MULTIMEDIA GRAPHIC DESIGN COURSE?
a. Knowledges
– Knowledge of information technology.
– Computer graphics and graphics drawing facility.
– Art, aesthetics, design tools.
– Design techniques such as image processing, audio, video, animation, 3D design.
– Product design process: images, videos, movies, audio…
– Common design software, understand and distinguish when to use it for the right purpose.
b. Skills
– Proficient in design softwares such as Adobe Photoshop, Adobe Illustrator, Adobe Premiere.
– Communicate, learn, capture the briefs and needs of many different audiences to choose the right message, the right way to convey.
– Search on the internet, look up English – Vietnamese to find a variety of design materials for design works.
– Practice using a variety of softwares, media and materials suitable for the design and intent of each project such as: posters, banners, Facebook posts, product labels, promotional videos , video editing, website interface….
– Design thinking, creative development, independent work, self-created design products according to market requirements.
DigiUni Junior is a trusted design and programming training center, providing multimedia graphic design course from basic to advanced for children from 9 to 18 years old. We believe that children as young as 9 can learn to design, and in fact we have young students starting their first year with Adobe Photoshop, who can already create their own images. projects themselves, according to their own ideas.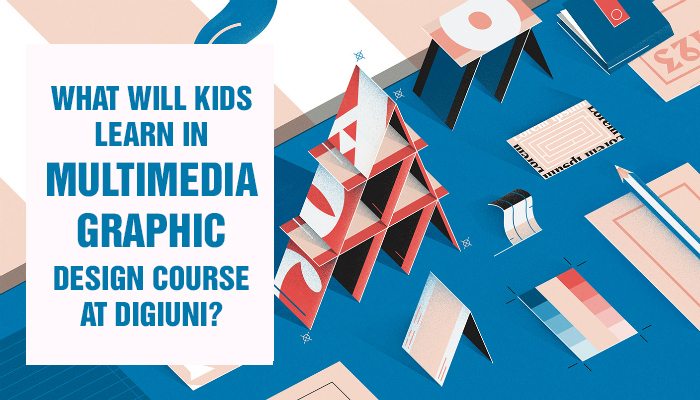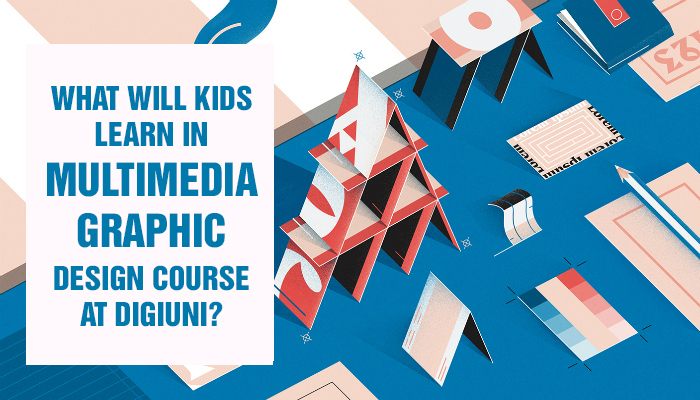 By project-based teaching method, young students will learn and practice continuously with professional teachers that are experienced in design and teaching. In addition, parents can monitor their children's learning progress through the homework system, feedback sessions after each module, class.
We currently have an online multimedia graphic design with a flexible program of only 2 hours / week, or study at school depending on the arrangement of parents and school.
To find out if your child loves design and have a better experience, we offer completely FREE trial lessons, parents should sign up for a trial class today.